What is Tech? Learn the lingo for the Revolution
A Glossary of Terms by TechRevolution. Find definitions of all the Tech terms you are wondering about: Fab Lab, Makerspace, Traction stage, Artificial Intelligence, Deep Tech, Robotics, Design Thinking…
PLAYERS and PLACES
Pre-accelerator – A pre-accelerator is a program focused on early stage startups, taking them from concept to MVP (minimum viable product)
Accelerator – Typically provides space to start-up businesses or existing businesses (which might have been operating for several years) with the potential for fast growth and good financial returns. A key characteristic is the fiercely competitive nature of the selection process and dedicated support provided by the space management and/or investors who working closely with the business to guide their growth. In return for access to space and business support, an accelerator will require an equity stake. This support lasts for a defined short period, at which time the investor will decide to expand their involvement or exit the business, either of which will result in the business moving on from the accelerator space.
Incubator – Provide workspace designed to actively support the growth start-ups or a business in its early stage of development. A distinguishing feature of an incubator is the provision of business support. Businesses leasing space in an incubator are chosen through a competitive application process and do so to access business support facilities which may be provided by the incubator management or their partners. This support is often (but not always) provided in return for a share in profit or minor equity stake in the business.
Co working Space – The spaces provide a combination of workplace and supporting facilities at affordable rates with easy in-out contractual conditions. The renting of space is set up to attract users who require ad hoc and short term access to workstations and supporting facilities such as meeting rooms. The format of space is primarily open plan and of an informal setting, aimed at facilitating an interactive and creative networking environment to form a sense of community among users.
Makerspace – facility with a range of machinery and tools to enable new Internet of Things products to be developed
FabLab – (fabrication laboratory) is a small-scale workshop offering (personal) digital fabrication. A fab lab is typically equipped with an array of flexible computer-controlled tools that cover several different length scales and various materials, with the aim to make "almost anything".
STAGE OF START-UP OR BUSINESS
Idea stage – You're looking to get your idea off the ground.
Prototype stage – you've spent six months refining the idea, doing user testing, building a working prototype. You're somewhere between Idea and Launch, with a valuation to match.
Launch stage – you've spent a year building the product with your co-founders, probably not paying yourselves a salary, plus you've invested £50K of your own money/time in the project. You're close to launching, you now want to raise money for that last mile of product development and for marketing.
Traction stage – you've launched and you're seeing good signs of early traction, enough to get investors excited. You have revenue plans, but nothing to show yet.
Revenue stage – Unlike Silicon Valley, where the vision of being a unicorn is often enough to get investors interested, EU investors like to see revenue or at least the promise of imminent revenue.
Scale stage – To get to this point, you need to have figured out product/market fit, proof of repeatable business, and large market demand provable by data, a clear path to scale and new business acquisition, and have identified customer acquisition cost and customer lifetime value.
The framework below is also useful – Adapted from Harvard Business School – 5 stages of small business growth:

TYPES OF TECH
AI – Artificial intelligence (AI), is intelligence demonstrated by machines, in contrast to the natural intelligence displayed by humans and other animals.
Machine Learning – Machine learning is an application of artificial intelligence (AI) that provides systems with the ability to automatically learn and improve from experience without being explicitly programmed. Machine learning focuses on the development of computer programs that can access data and use it to learn for themselves.
Deep tech – technology that is based on tangible engineering innovation or scientific advances and discoveries.
Internet of Things – IoT – A term for the practice of embedding computers, sensors and networking capabilities into everyday objects such as infrastructure or a bottle of water.
Travel Tech – Transport technology such as high speed trains and aircraft.
AgriTech – Agricultural technologies such as farm robots.
HealthTech, or digital health, uses technology (databases, applications, mobiles, wearables) to improve the delivery, payment, and/or consumption of care, with the ability to increase the development and commercialization of medicinal products
MedTech – Devices, medicines, procedures and systems designed to prevent, cure or mitigate health problems.
MADTech – marketing advertising technology
MarineTech – technologies for the safe use, exploitation, protection of, and intervention in, the marine environment
FinTech – Financial Technology – computer programs and other technology used to support or enable banking and financial services.
Architecture Tech – Technologies for buildings such as elevators or smart windows.
Media Tech – Tools for consuming or producing entertainment and media.
PropTech – is the use of information technology (IT) to help individuals and companies research, buy, sell and manage real estate. Similar to the way FinTech focuses on the use of technology in finance, PropTech uses digital innovation to address the needs of the property industry.
InsurTech – Technologies & platforms that help optimise any of the principles for success or requirements of insurance.
SpaceTech – Technologies for exploring or commercialising space such as spacecraft or communication satellites.
FoodTech, SexTech, SportsTech, MusicTech
Assistive Technology – Devices that improve the capabilities of people with disabilities such as a hearing aid.
Immersive Technology – refers to technology that attempts to emulate a physical world through the means of a digital or simulated world, thereby creating a sense of immersion.
AR – Augmented Reality/ VR Virtual Reality Refers to computer-generated simulations that integrate the real world (AR) or are entirely self-contained (VR). AR applications let you move around in the real world. With VR, you have to remain in the same location because you cannot see your surroundings
Mixed Reality – the merging of real and virtual worlds to produce new environments and visualisations where physical and digital objects co-exist and interact in real time.
Robotics – A class of machines with semi-autonomous capabilities meaning that robots can handle certain tasks in real world conditions without direction
USEFUL TERMS – COMMON PARLANCE
Lean start-up – a methodology for developing businesses and products, which aims to shorten product development cycles and rapidly discover if a proposed business model is viable; this is achieved by adopting a combination of business-hypothesis-driven experimentation, iterative product releases, and validated learning. Central to the lean startup methodology is the assumption that when startup companies invest their time into iteratively building products or services to meet the needs of early customers, the company can reduce market risks and sidestep the need for large amounts of initial project funding and expensive product launches and failures.
Business model canvas – Business Model Canvas is a strategic management and lean startup template for developing new or documenting existing business models. It is a visual chart with elements describing a firm's or product's value proposition, infrastructure, customers, and finances.
Agile – agile development refers to a group of methodologies based on iterative development, where requirements and solutions evolve through collaboration between self-organising cross-functional teams. Agile methods or Agile processes generally promote a disciplined project management process that encourages frequent inspection and adaptation, a leadership philosophy that encourages teamwork, self-organisation and accountability, and a business approach that aligns development with customer needs and company goals. Agile development refers to any development process that is aligned with the concepts of the Agile Manifesto. The Manifesto was developed by a group of fourteen leading figures in the software industry and reflects their experience of what approaches do and do not work. Read more about the Agile Manifesto.
UX – User Experience – The goal of UX design in business is to improve customer satisfaction and loyalty through the utility, ease of use, and pleasure provided in the interaction with a product.
UI – User Interface – user interface (UI) is everything designed into an information device with which a person may interact. This can include display screens, keyboards, a mouse and the appearance of a desktop. It is also the way through which a user interacts with an application or a website
Design thinking – a process in which design concepts are developed. Finding problems, creative strategy, solution focussed thinking. Empathise, design, ideate, prototype, test. It is a solution based approach to solving problems.
Minimum viable product (MVP) – is a product with just enough features to satisfy early customers, and to provide feedback for future product development. Gathering insights from an MVP is often less expensive than developing a product with more features, which increases costs and risk if the product fails, for example, due to incorrect assumptions. It may also involve carrying out market analysis beforehand.
Product-Market Fit – product-market fit, is the degree to which a product satisfies a strong market demand. Product/market fit has been identified as a first step to building a successful venture in which the company meets early adopters, gathers feedback and gauges interest in its product(s)
People increasingly talk about Founder-Market Fit – Founder/market fit means the founders have a deep understanding of the market they are entering, and are people who "personify their product, business and ultimately their company
Unicorns – A unicorn is a privately held startup company valued at over $1 billion, A decacorn is a word used for those companies over $10 billion, while hectocorn is the appropriate term for such a company valued over $100 billion. The largest unicorns included Ant Financial, Didi Chuxing, Uber, Xiaomi, Airbnb, Palantir, and Pinterest.Dropbox is the most recent decacorn that turned into a public company on March 23, 2018
Exit – This is how startup founders get rich. It's the method by which an investor and/or entrepreneur intends to "exit" their investment in a company. Commons options are an IPO or buyout from another company. Entrepreneurs and VCs often develop an "exit strategy" while the company is still growing.
Demo (or pitch) day – a demo day is when Start-ups pitch their business in front of investor when they graduate from e.g. an accelerator.
Pitch – an opportunity to introduce your business idea in a limited amount time – from a few seconds to a few minutes. You can use a presentation to underline your speech or just do it orally. The main goal of a pitch is to gain new customers, investors or stakeholders to support your business.
Elevator Pitch – Elevator pitch is a slang term used to describe a brief speech that outlines an idea for a product, service or project. The name comes from the notion that the speech should be delivered in the short time period of an elevator ride, usually 20-60 seconds
Pitch deck – a brief presentation, often created using PowerPoint, Keynote or Prezi, used to provide your audience with a quick overview of your business plan. You will usually use your pitch deck during face-to-face or online meetings with potential investors, customers, partners, and co-founders.
C-suite – C-suite gets its name from the titles of top senior staffers, which tend to start with the letter C, for "chief," as in Chief Executive Officer (CEO), Chief Financial Officer (CFO), Chief Operating Officer (COO), and chief information officer (CIO).
You may also hear about CMO – Chief Marketing Officer and CTO – Chief Technical Officer
Startup – in relation to tech, an early stage company developing a product or service with original intellectual property attached. A company can be a startup for a long period of time. Startups are often 'pre-revenue' in that they aren't yet selling their product but existing on investment or their own funds (also known as 'bootstrapping')
Scale up – a start up who has reached the market with their product and is expanding. Expansion includes on-boarding customers and talent, taking on increased investment, expanding operations sometimes in different territories
INVESTMENT
Types of Investment
Angel Investor – An angel investor (also known as a business angel, informal investor, angel funder, private investor, or seed investor) is an affluent individual who provides capital for a business start-up, usually in exchange for convertible debt or ownership equity. In principle gives smaller amounts. They can have as much or as little input and influence as is agreed.
Venture Capitalists (VC Firm/fund) – A venture capitalist is an investor who either provides capital to start-up ventures or supports small companies that wish to expand but do not have access to equities markets. Venture capitalists are willing to invest in such companies because they can earn a massive return on their investments if these companies are a success. Venture capitalists also experience major losses when their picks fail, but these investors are typically wealthy enough that they can afford to take the risks associated with funding young, unproven companies that appear to have a great idea and a great management team. Will invest of behalf of the investment fund.
Agreeing to a VC investment means founders will have more people involved in how the business is run.
In principle angel investors are more likely to get involved with early stage start-ups whereas VC's get involved later in the start-ups process.
Crowd funding – Crowdfunding is where a project – or start-up – is financed by raising funds from a large number of people, typically via the internet. There are 3 main types of crowdfunding:
Equity based crowdfunding – the sale of a stake in a business to a number of investors in return for investment
Loan based crowdfunding – funds are borrowed from lots of people online rather than from a bank
Rewards based crowdfunding – Individuals donate towards a specific project with the expectation of receiving a tangible (non–financial) reward or product at a later date in exchange for their contribution
As well as raising funds, this approach also helps to validate an idea or project and generates enthusiasm amongst the 'crowd' creating valuable advocates and project champions.
Bootstrapping
An individual is said to be bootstrapping when he or she attempts to found and build a company from personal finances or from the operating revenues of the new company. Compared to using venture capital, bootstrapping can be beneficial, as the entrepreneur is able to maintain control over all decisions. On the downside, however, this form of financing may place unnecessary financial risk on the entrepreneur. In addition, bootstrapping may not provide enough investment for the company to become successful at a reasonable rate.
Stages of Funding or Investment
A round of investment is when a start-up begins looking for investment to the point that they close and sign on the deal.
Pre-seed – A pre-Seed funding round is for early stage product development of a minimum viable product (MVP). Funding of a Start-up at this level is to maximise its future fundraising opportunities through testing, having an effective core team and building beyond a prototype. Funding for Pre-Seed business normally comes from the 3F's (Friends, Family and Fans (or Fools)!). The amount of money is usually relatively small because the business is still in the idea or conceptual stage. Seed Money (normally around €50K-€250K)
Seed – Start-ups at this level have already validated their value proposition. They have monthly revenue which is consistent, constant and the business is growing month on month. The Start-up needs its next level of funding to find true product/market fir, scale, grow and become a competitor in the current market place.(typically the round size would be somewhere between €500k to €2m)
Series A – Series A financing tends to occur when the Start-up is generating strong revenue from its business model, but rarely will the business be generating net profits at this point. Most series A investors will be venture capital funds or angel investors who are willing to accept the high levels of risk found in these early-stage company investments. This round is to scale a product/market fit nationally and potentially internationally. (typically the round size would be €2m to €10m)
Series B and C – these are the next processes of growing a business through outside investment in exchange for equity. Through each round, the amount invested typically goes up as the risk of loss decreases.
Bridge funding – 'Bridges' the gap between when a company runs out of money and when new funds are expected to come in.
| | | | |
| --- | --- | --- | --- |
| | Seed | Series A | Pre-Seed |
| Revenue | $0 | >$5K per month | >$100K per month |
| Product | No MVP | MVP / BetaEarly release | All systems go! |
| Customer/Revenue Growth | Customer Validationor Pilot complete | Beginning | 10% per monthfor 6+ months |
| Cofounding Team | 1-4 Cofounders | 2-4 Cofounders full time | 2-4 Cofounders full time |
| Exec Team | Founders | Founders + 1-5 | Founders + 5-20 |
| Board of Advisors | 1-2 industry credible advisors | 3-6 Serial Entrepreneurs and/or industry experts | 6+ Serial Entrepreneurs, investors and/or industry experts |
| Board of Directors | None | 1-2 cofounders | 2 founders and 1 Serial Entrepreneur, Investor or Industry Captain |
| Runway (how long until you run out of cash) | No funding yet but you should have personal cash flow | 6-18 months | 6-18 months |
| Scalability | Future tech build | Technology enabled | Technology Core |
| IP (Intellectual Property) | Not Owned | Owned | Protected |
| Raise Target Amount | $50k – $250k | $500k – $2m | $2m to $10m |
| Indicative Australian Valuation | $500k – $2m | $2m – $5m | $5m – $20m |

TECH START-UP ECOSYSTEM
A tech ecosystem is an interconnected, interdependent network of various actors that combine to create innovative products and services in tech. These actors primarily include tech startups; more established tech companies; tech company founders; investors and investment groups; and mentors and organisations that provide business support.
The individual components of the ecosystem could be categorised under the headings in the diagram below – in short, start-ups need all of these factors to be present to survive and thrive.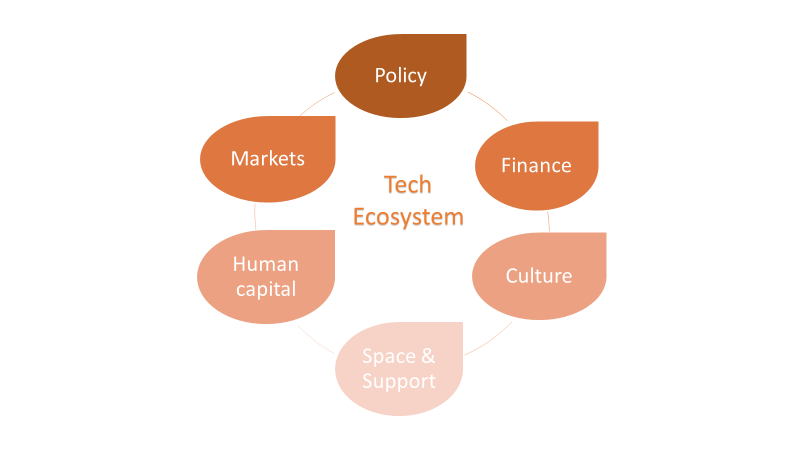 Policy – Public sector engagement, Local incentives / taxes, Research and thinktanks, thought leadership
Markets – Early adopters, Customers – local & regional, Internationalisation
Finance – Angels, VCs, Grants and Loans
Human capital – Skilled labour, Talent, Education and training providers, Internships, Apprenticeships
Culture – Tech Community / Network, Thought leadership, Coffee shops, Serendipity
Space & support – Co Working Spaces, Incubators, accelerators, Business support programmes, mentors, High Speed Broadband, Good transport connections
Other random – frequently used terms
Disrupt – To create a new market, either by inventing something completely new (ie the personal computer, the smartphone) or by ignoring the rules of an old market. If the latter, often illegal, but rarely prosecuted. Uber disrupted the taxi industry by flooding the market with illegal cabs, while Airbnb disrupted the hotel market by flooding the market with illegal sublets.
IPO – Initial public offering – when a company begins allowing regular people to buy shares. elevato�qs=�